Are you interested in the idea of selling your book of business? Whether it's five years away or right around the corner, a discovery call with John Hockaday is your first step.
What should I expect?
During the call, John is trying to learn more about your business. Here's a sampling of the types of questions to expect:
What's your product mix?
Which carriers do you write business with?
Who are your current uplines?
Where do you service your customers?
How often do you communicate with your customers?
How has your business done over the last three years?
There are no "wrong" answers to any of these questions. This call is simply to get a better understanding of how you run your business.
Who should book a discovery call?
Age isn't the only factor when thinking about selling your book of business.
Career changes: you could be 45 years old, but perhaps you want out of the business.
Moving: perhaps you're moving to another part of the country, and you'd like to cash out your current book.
Health concerns: maybe you've gotten a recent diagnosis that's forcing you to make career changes.
Technology aches and pains: some of us don't want to keep up with the technology evolution, but we know if we don't, we'll get left behind – selling is a great way to have a clean break.
Going backwards: if your income is going down year over year, you may want to sell now so you get a higher valuation than you will a few years down the road.
Losing passion: if you've stopped servicing your clients, it's more urgent than ever to sell your book – you don't want to lose them entirely or they may drop off, lowering your valuation.
Retire: finally, a lot of agents want to retire! Selling your book allows you to take care of your clients, and there are payment structures that allow you to be paid over time, similar to a pension.
Whether you want out of this business ASAP or you're planning for years down the road, we encourage you to book your discovery call. The entire perpetuation planning process takes a bit longer than you may think, and it's never too early to start.
Why should I book a discovery call?
A discovery call is the first step towards selling your book of business to New Horizons Insurance Marketing. Even if you're exploring all your options, we pride ourselves on being available for advice and questions. You can ask us anything, and we'll tell you everything we know!
Starting with an FMO like us is a great first step, because it comes with several advantages, including:
✓ Higher valuation: an FMO can afford to pay more for your book
✓ Resources in place: an FMO has resources and staff in place to take great care of your clients
✓ Proven track record: it's easier for your clients to trust an FMO because there's a proven track record there
✓ Easier transition: your FMO already has great relationships with your carriers
"I was real happy with the deal that John and Jeff made with me. They have really bent over backwards to deal with me and do the things we needed to do. I couldn't be happier.

I would tell anybody that is thinking about getting out of this thing that they should consider dealing with these guys. I told John that if he's talking to anyone that's considering retiring, have them give me a call if they want to know how it all works."

–Steve Hughes, now retired independent insurance agent
Who is John Hockaday?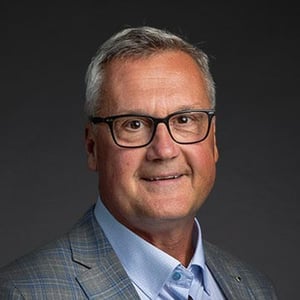 John Hockaday is the COO & Principal of New Horizons Insurance Marketing. He began servicing clients in the 80s and subsequently started a local agency followed by a national marketing organization. He has led the acquisitions initiative and has purchased over 30 books of business since 2018.
When is the discovery call?
Your succession planning discovery call with John Hockaday can be scheduled on his calendar. You can select a day and 15-minute time slot that works for you below: