Get quick access to support for new and pending annuity business
We haven't stopped offering top-notch annuity support for nearly two decades. Learn why annuity agents love working with New Horizons Insurance Marketing.
Praise for the New Horizons Annuity Department
After 30+ years of working with a large mutual insurance company, I decided to retire, but still wanted to stay somewhat active. A fellow insurance agent recommended that I contact New Horizons because I wanted to work in the senior market, especially in the Medicare Supplement field. After a short time, I discovered that it was a natural fit to talk to my senior clients about annuities.

New Horizons has made it easy to place business in this market. With a prospect and dollar commitment, New Horizons does all the work for you. New Horizons will check with several carriers to get your client the best rate and options that they wish. They will check the applications for completeness, forward to the carrier and follow-up on the status. Underwriting is usually quick and commissions are paid promptly.

I am most impressed by the support of the entire staff and their friendly, business-like manner. My only regret is that I wish I had started working with New Horizons earlier in my career.

--Thomas W. Elder, CLU, ChFC
I have worked with Kirk and New Horizons for a little over a year now. One thing that is difficult in this industry is communication. I think that is the best quality of Kirk and his team. I can always count on them to keep me updated on my cases from submission all the way through the process to issuance.

I have worked with a few other marketing agencies in the past, and what surprises me the most about New Horizons is their willingness to do the necessary legwork to get the case placed. No matter what issue may develop, it is so nice to have your representative simply say, "I'm on it" and the problem gets solved.

This organization goes beyond the scope of what might be considered their obligation. They help me in so many ways that I feel like I can truly call them a partner because they have become a valued extension of my team.


--Michael C. Briggs
Private Wealth Advisor
Fast, Responsive Communication
Communication is key in the annuity world, because the landscape changes constantly.
That's why we keep all of our annuity agents current with our annuity tip sheets, the annuity rates on our site, a quarterly annuity update, and also personal communication via phone and email.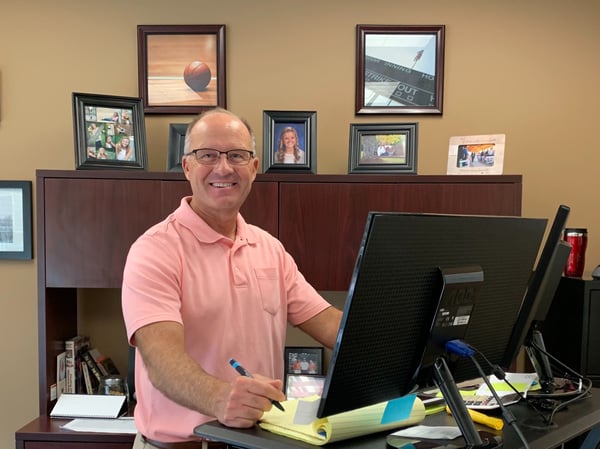 Kirk Sarff, Director of Life Insurance & Annuity Sales
You can call us any time to check on rates or what's hot in the annuity arena. Communication is a strength of ours, and we take pride in making sure our contracted agents are always up-to-date on rate changes and rate lock guidelines.
If you have business in the hopper with us, you can count on being informed.
Follow-Up You Can Count On
Follow-up is critical when you're working on an annuity case. We stay on top of application corrections, the transfer process, and everything in-between.
The transfer process is crucial, because every entity has their own style and procedure on transfers. It's always a hold-up, but you can count on our follow-up to make sure the transfer goes through.
Updated Forms
We keep our forms updated and make sure you have the proper ones whether it's during the app process or at the time of a claim or a withdrawal.
We really pride ourselves on always having the proper forms and documents for you.
e-Application Help
We have a lot of carriers that use the same Firelight e-App platform, and we'll help you get started on that.
Most agents love the e-App process, because it doesn't let you make mistakes – it always scrubs the app for you, speeding up the whole process. If you're not already using e-Apps, we'll help you get comfortable.
Annuity Resources
Our marketing team does a fantastic job of creating annuity resources for new and established agents. These are completely free to download, and they will customize marketing pieces for any agent that's contracted through us.
Our website is also a huge resource for annuity agents. If you haven't done so yet, check out our annuity carrier pages: Annuity Carrier Pages With Product Info, & Portal Links
Once you select a carrier, you'll see all of the information you need to learn more and get started. Each annuity carrier page has:
Link to agent portal
Contracting form
Product and carrier highlights
State availability
Detailed product information
Resources to help you get started with annuity sales
Top Carriers
New Horizons represents dozens of Annuity carriers.
Check out our Annuity Carriers to get started.
Curious about which annuity carriers will fit your client's needs? Call us at 888-780-7676 or email Kirk Sarff at ksarff@nhmteam.net today.
---
Brand new to annuity sales? Connect with Kirk Sarff at 888-780-7676 or ksarff@nhmteam.net, and he'll help you place your first case.