Updated for 2023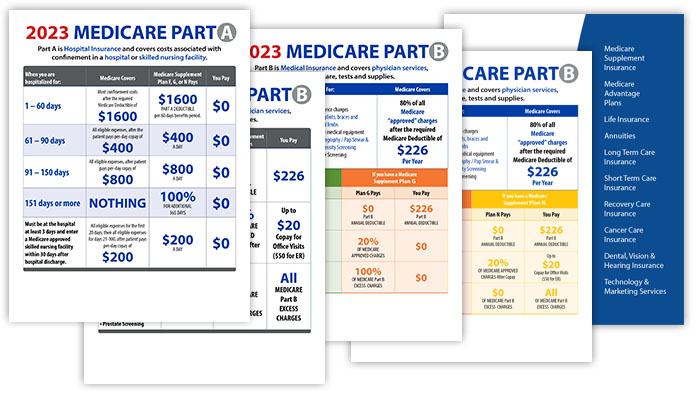 A handout can be a huge help when it comes to explaining how Medicare works to a client.
That's why we've curated a guide that illustrates to your clients:
What Medicare Parts A & B are, and
What each part covers.
The updated 2022 handout is in a table format so that you and your client can easily scan and understand what Medicare covers in 2022 and what the client would ultimately be responsible for.
To aid you in selling a Medicare Supplement, we've included how a Plan F or Plan G would pick up the costs that Medicare leaves behind. Your client will quickly understand that with a Plan F or Plan G, they'd be responsible for little to nothing.
The 2022 client handout includes charts for both Medicare Part A costs as well as Medicare Part B costs. You have the ability to choose whether you want your client to see Plan F, Plan G, or both. This gives you the opportunity to present both plans side-by-side if you wish.
The clean design of this client handout makes it easy to show your prospects how much Medicare costs in 2022. While some of the education can be challenging, this guide ensures that the costs of Medicare will be a breeze to explain.
You can even customize the handout using Canva. We include a link to customize:
Your Name
Your Contact Information (address, phone, email, website, etc.)
Your Logo and Photo
This adds a personal touch to the handout, and it gives your client another piece of paper with your information on it to keep you and your business at the top of their mind.
If you're newer to Medicare Supplements, make sure to read our beginner's guide to learn more about sales tips, client profiles, quoting, finding leads, and more.