A growing library of marketing and sales materials designed to help Medicare Advantage agents close more business – compliantly.
Looking for a Medicare Advantage plan?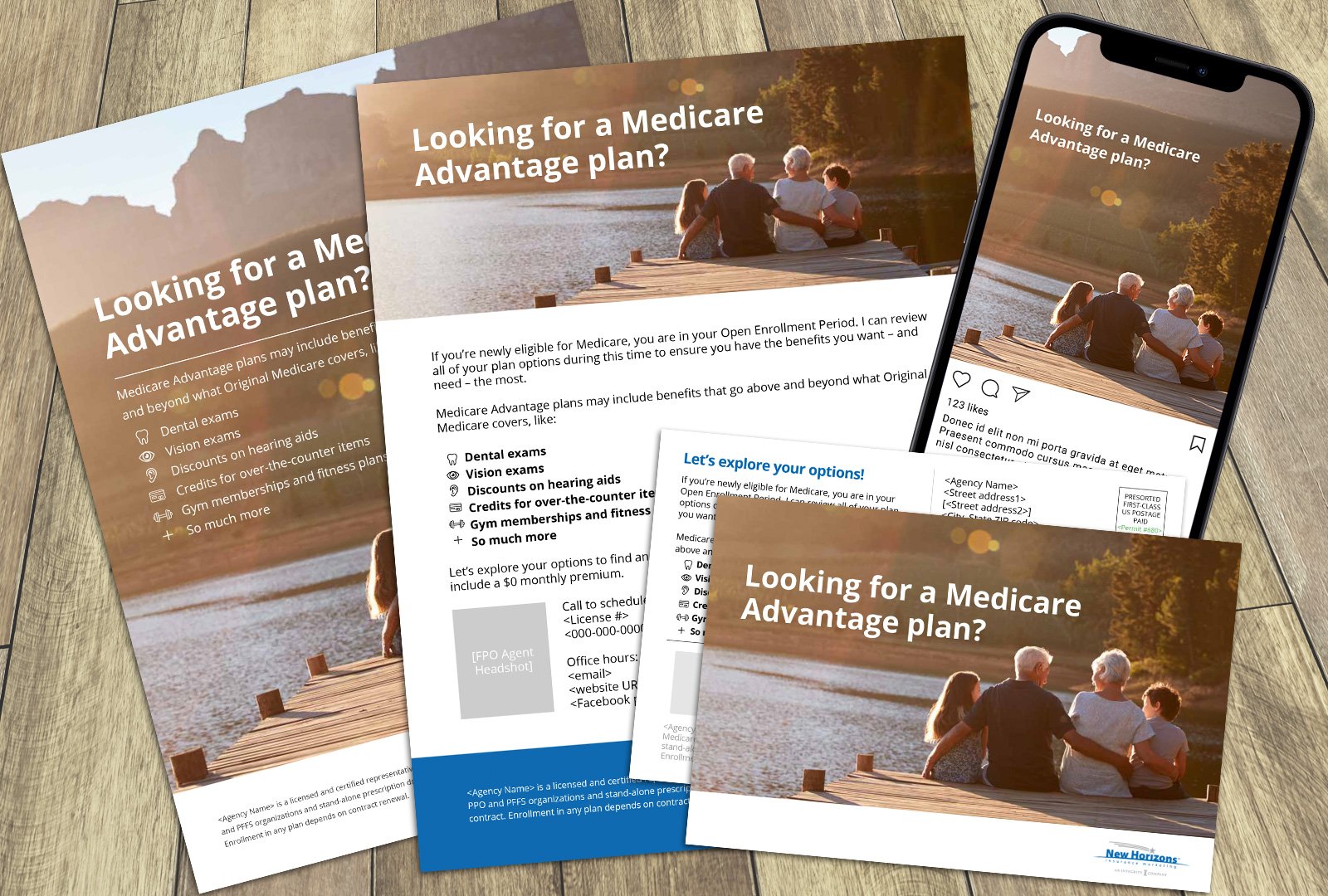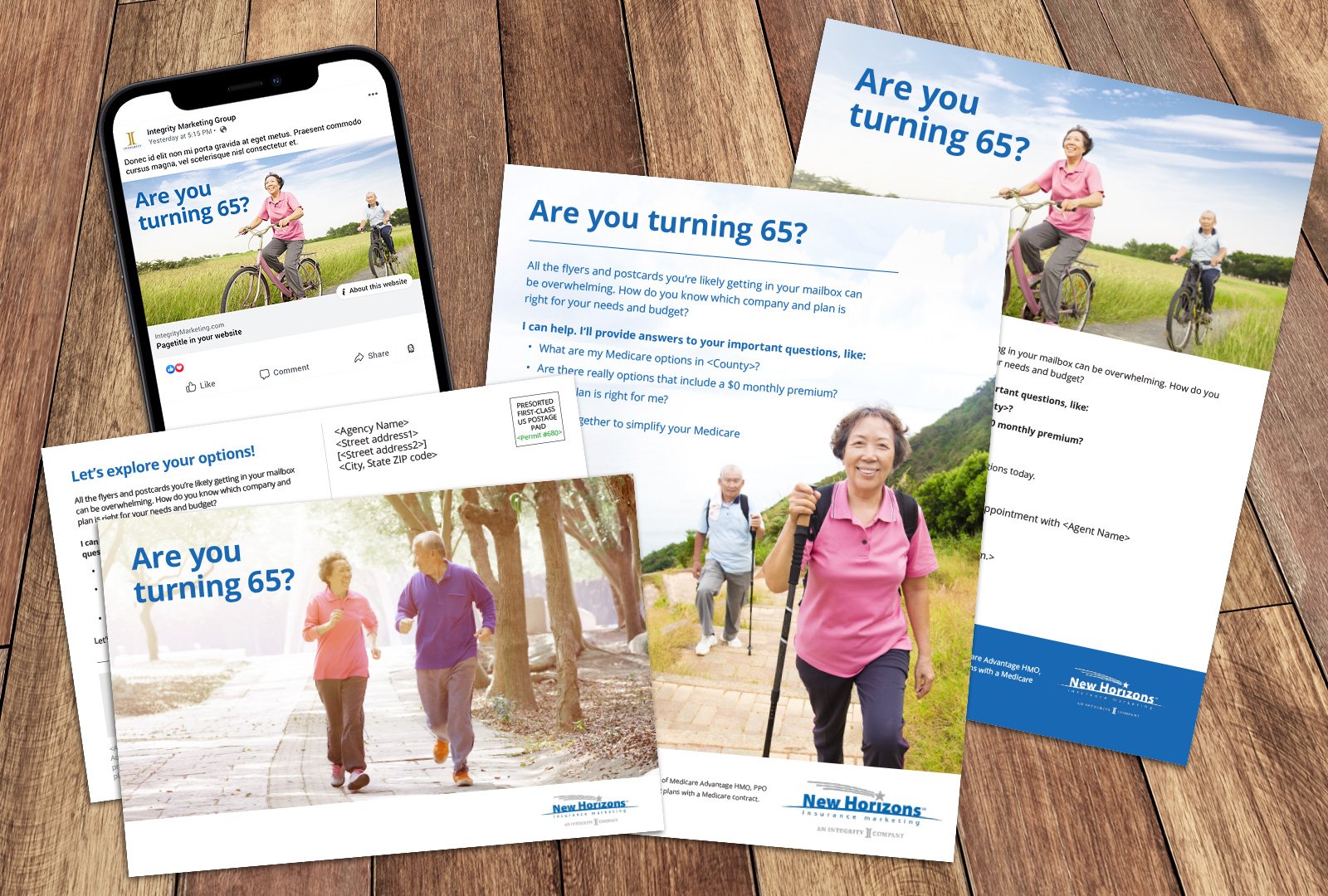 Can I still enroll in a Medicare Advantage plan?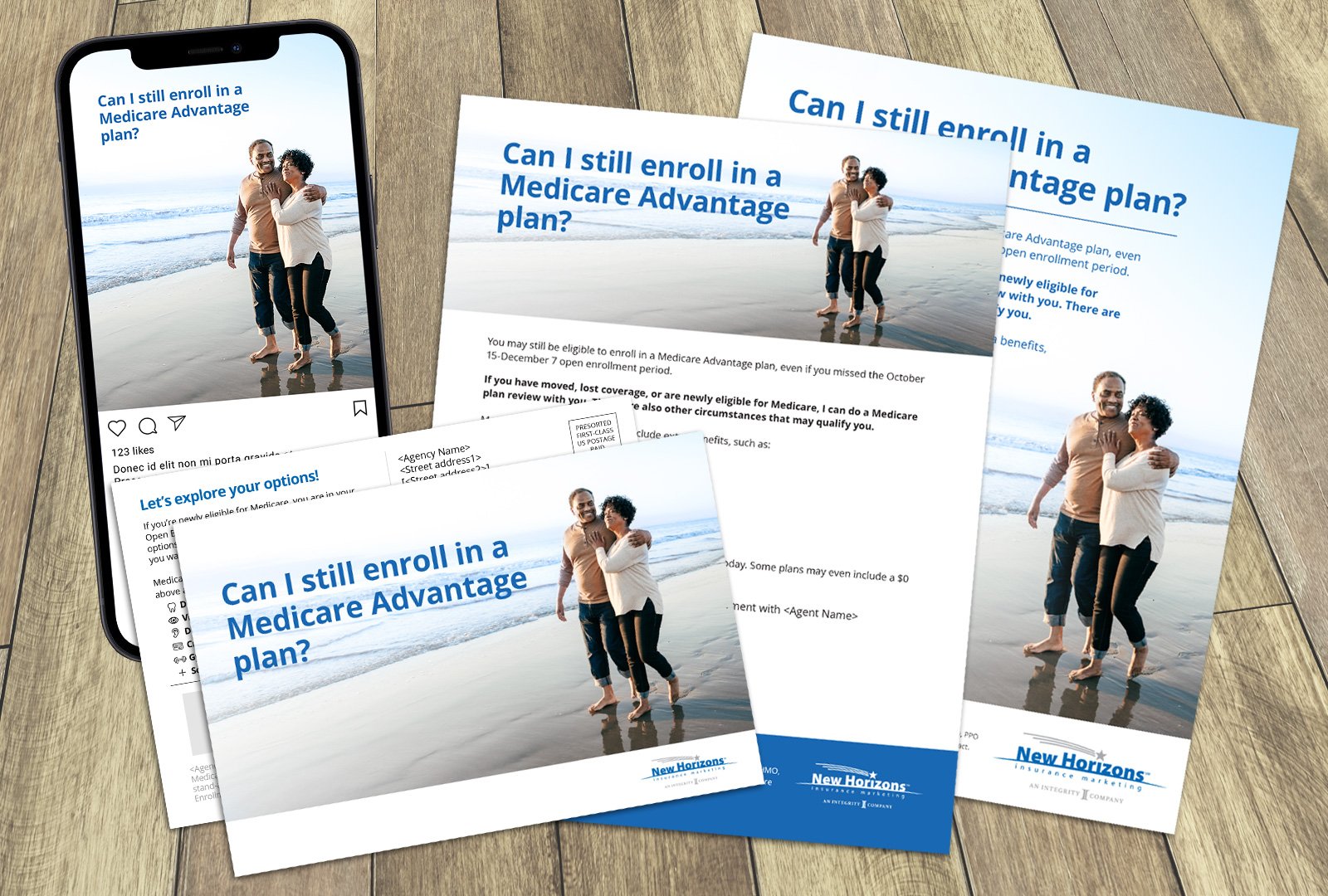 Creating your own marketing materials to promote Medicare Advantage products is a major time commitment. Plus, once you design the materials, they need to go through an extensive review process, including getting approval from CMS if there's any marketing language on your materials.
Sure, you can utilize the branded marketing pieces created by carriers, but what if you want your agency branding to be the focus? What if there are several competitive MA carriers in your area, and you don't want to pin yourself to just one option?
We understand that, and that's why the New Horizons marketing team developed an extensive library of generic, non-branded Medicare Advantage marketing materials. Plus, they're now CMS-approved, giving you peace of mind that your marketing efforts are 100% compliant.
Marketing Medicare Advantage Plans
You can bet these MA advertising materials are compliant, they're persuasive, and they're available in a variety of formats.
CMS-approved: all of the included Medicare Advantage marketing materials have gone through the entire approval process and are officially CMS-approved, ensuring your outreach efforts are compliant.
Persuasive, benefit-rich copy: a bold headline and a body that outlines why MA products are so attractive will catch the eye of your target market.
Clean, easy to digest design: No clutter, no chaos. The clean design you'll find in our Medicare Advantage assets has been carefully crafted by a performance-driven marketing agency that has done advertising for Aetna Medicare Solutions, VSP, and AARP.
Find your format: whether you prefer a flyer, postcard, social media posts, desk display, or a combination of these, we have options to suit your preferences.
Customize with your logo and contact information: effortlessly and professionally let clients know you offer Medicare Advantage plans.
Stress-free compliance advice
We know compliance and the red tape surrounding it gives agents heartburn. What if you contact a potential enrollee at the wrong time or you use the incorrect format?
With our compliant marketing and advertising materials, you don't need to be nervous. Each piece comes with a clear explanation of how it can be used and when.
Don't get buried by Medicare Communications and Marketing Guidelines. Let us do the work for you so you can do what you do best: serve seniors.
A few helpful tips:
You can make unsolicited direct contact with potential enrollees using direct mail, other print media/advertisements, and email (with an opt-out).
You can't knowingly target people during OEP (January 1-March 31), but you can conduct other marketing activities like marketing to age-ins (people turning 65 who don't yet have a plan).
Again, don't worry – we'll make sure you are confident and prepared when using our generic Medicare ads.
Download CMS-Approved Medicare Advantage Marketing Materials Now: