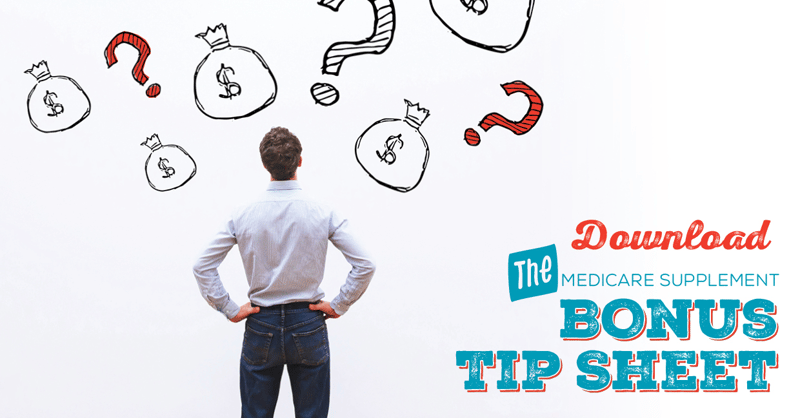 The Medicare Supplement Bonus Tip Sheet offers our agents a quick overview of what each company is currently offering.
Only cash bonuses are listed – to see all incentives, including trips and contests, visit our Incentives page.
"I like the tip sheets; I find them interesting to see how I can earn extra money. However, I do not let this one factor (extra money) overly influence what product I end up recommending to a client. I put the client's wants and needs first, and that has worked for me for about 33 years."
–Anne Copeland
"This tip sheet is extremely helpful – it lets me know where I should be writing. Last month, I got a $450.00 bonus check from Aetna! Keep up your fine work!"
–Anthony Potocki
On our Medicare Supplement Bonus Tip Sheet, you will quickly see:
Companies and a quick overview of the cash bonus
A few simple details about the cash bonus, like app minimums and app type
A link to view the bonus in its entirety with all the fine print
There are some excellent Med Supp bonuses from the best insurance carriers around, including:
American Benefit Life (ABL)

Medico

Capitol Life
Atlantic Coast Life
Aetna
Accendo/CVS Health
Lumico
Humana
United American
Manhattan Life / WULA
Mutual of Omaha
Cigna
It can be difficult to get a quick view of what bonuses are available at any given time, and that's why created this tip sheet. We will email you an updated Tip Sheet when new bonuses are added or old bonuses expire.
Stay in the know with this Medicare Supplement Bonus Tip Sheet from New Horizons!
New to Medicare Supplement sales?
Check out The Beginner's Guide to Selling Medicare Supplements. For agents already selling senior market insurance products, this article will be nothing more than a refresher for you.

However, there are a lot of guys and gals who want to break into supplement sales, but they need a serious crash course.