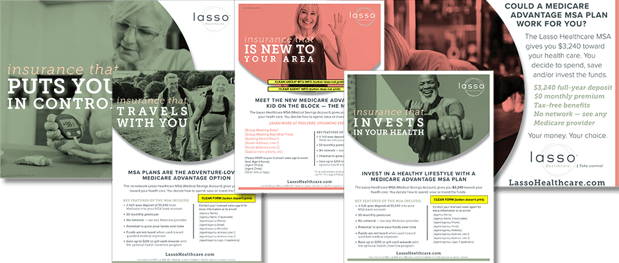 Are you ready to start marketing the Lasso Healthcare MSA in your area? Now you can with a variety of marketing materials developed by the Lasso Healthcare team and a few goodies from the New Horizons marketing department.
What you get in the 2020 Lasso Marketing Kit:
Radio Scripts
Social Media Posts
Facebook Events
Flyers
Postcards
Print Ads
Billboards
Individual and Group Sales Presentation
Videos
Client Leave Behind
Email Templates Coming Soon!
---
Want to learn more about how to use these marketing pieces?
We include all the details you need to know, such as how to customize the billboard templates and how to get your radio ad on the air here:
Read: Marketing the Lasso MSA: Billboards, Radio Scripts, Mailers, & More
---
Totally new to the Lasso Healthcare MSA product? Learn more about how it works and how to sell it to your clients: