Connect with your current Med Supp and Part D clients when it's time for a renewal appointment.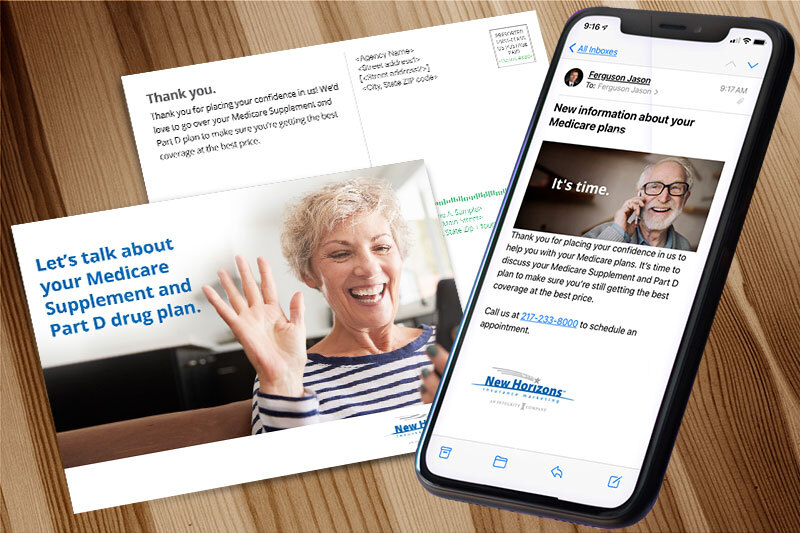 September 2022 Notice: Our team is working hard to get this postcard through the CMS approval process. As of September 2022, please do not utilize this postcard during AEP. You may still download it, but please do not print or send it until we inform you that this marketing piece has official CMS approval.
A simple postcard and email template make it easy to let your Med Supp and Part D clients know it's time for a policy renewal appointment.
If you have more clients than you can call, this insurance marketing postcard and email template makes it easy to reach hundreds of clients in less time. Stagger them out over the year to make renewal communications effortless and easy.
Senior market insurance agents can personalize these marketing assets with their logo, agency name, phone number, office hours, and more. The email template is very user-friendly – all you need to do is copy and paste the text into your email composer. You can also include the "It's time" image to add a professional, industry-specific touch to your renewal communications.
Policy anniversary appointments don't have to be a burden – this Med Supp and Part D postcard and email template make it easy and hands-off. What will you do with the extra time?
Save time: instead of calling on hundreds of clients, send out a pre-written email with the click of a button.
Reach clients multiple ways: send clients communications in the mail and their inbox to ensure they get your message.
Personalize: add your logo, phone number, office hours, and more to these pre-designed marketing materials.
New to Med Supp and Part D Sales? Check out The Beginner's Guide to Selling Medicare Supplements and How to Sell Medicare Part D to learn more.
This postcard and email template is for communicating with current clients, but what about generating new leads? Head on over to our article: 17 Ways to Successfully Generate More Leads to learn how to generate more leads for your business.
Get the postcard and email template: