Learn how simple it is to get started with the free life insurance training hub.
Get access to the e-guide, training videos, and loads of marketing materials – all in one convenient training hub. Here's a quick look at the training hub: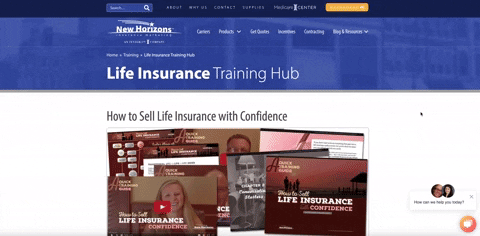 What's in it for you?
When we talked to agents who only sell Med Supps about life insurance, we learned a lot. There's this idea that the different types of life insurance are complicated and hard to understand. And… we admit that might have some truth to it.
BUT, the biggest misconception out there is that YOU have to know all of the complicated product stuff. And you don't.
New Horizons has a Life Insurance Department that makes selling life insurance incredibly simple. Learn how to take advantage of us and see how you can make a killing selling life insurance to your clients.
The 8-Part Training & Marketing Kit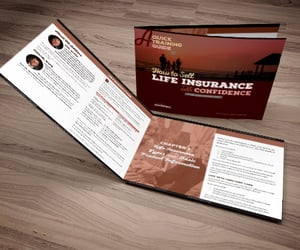 Quick Training E-Guide
The short-and-to-the-point e-guide that features 5 mini-chapters equipped with charts, videos, and easy-to-read sections. You won't be overwhelmed with complex product information.
Whether you're a life insurance newbie or an expert in need of new strategies and a good refresher, you're in the right place.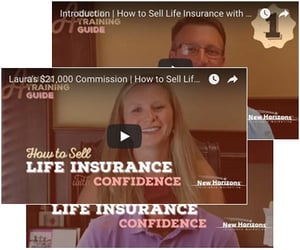 Training Videos
Learn what to say when you're presenting different types of life insurance. Also learn how one of our agents made over $20,000 on a single life policy.
Client Needs Assessment
The simple questionnaire that helps you start the conversation.
4 Direct Mail Letters
Life insurance letter templates that make it easy to get your foot in the door.
Life Insurance Review Worksheet
A simple worksheet you can take to appointments to gather the information you need the most.
LTC vs. Life w/LTC Handout
Help clients understand how traditional long-term care differs from life insurance with a long-term care rider.
2 Powerpoint Presentations
For the presentation-inclined, take advantage of 2 Powerpoints showcasing our 2 life with long-term care products.
Published Articles Vault
Every article we've ever written about life insurance, all in one place.
All of this is available in our life insurance training hub. Access opens up as soon as you fill out the form on this page.