Download the Household Discount Cheat Sheet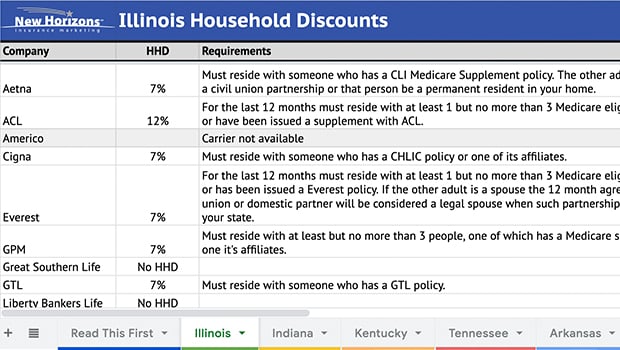 Need a cheat sheet for Medicare Supplement household discounts?
Household discounts not only vary from carrier to carrier, but they also vary from state to state. On top of that, the eligibility criteria is different for nearly every carrier.
One carrier might allow you to live with anyone to qualify, while another one requires you to live with someone who has that carrier's supplement. It's tricky business... but not anymore!
"This is a great tool! You guys really take care of agents!" –Mike S.
States currently included in this cheat sheet:
As you can probably imagine, this was a massive undertaking – we literally looked through over 90 Outlines of Coverage – and double checked them all – to put this together.
Because of that, we decided to start with 5 states:
Illinois
Indiana
Kentucky
Tennessee
Arkansas
These are the states where we have the highest concentration of writing agents. We'll be looking to expand this document in the future, so if you have a state request, you can let Shannan know! Her email is included on the first page of the document.
Carriers currently included in this cheat sheet:
Aetna

ACL

Americo

Cigna

CSI Life

Everest

GPM

Great Southern Life

GTL

Liberty Bankers Life

Lumico

Medico

Mutual of Omaha

Pan American

Prosperity

Renaissance

Sentinel

Shenandoah

Thrivent

Union Security

WULA
New to Medicare Supplement sales?
Check out The Beginner's Guide to Selling Medicare Supplements. For agents already selling senior market insurance products, this article will be nothing more than a refresher for you.

However, there are a lot of guys and gals who want to break into supplement sales, but they need a serious crash course. This is that introduction!