Looking for a T65 Medicare letter? The New Horizons marketing team has created one, and it's even CMS-approved.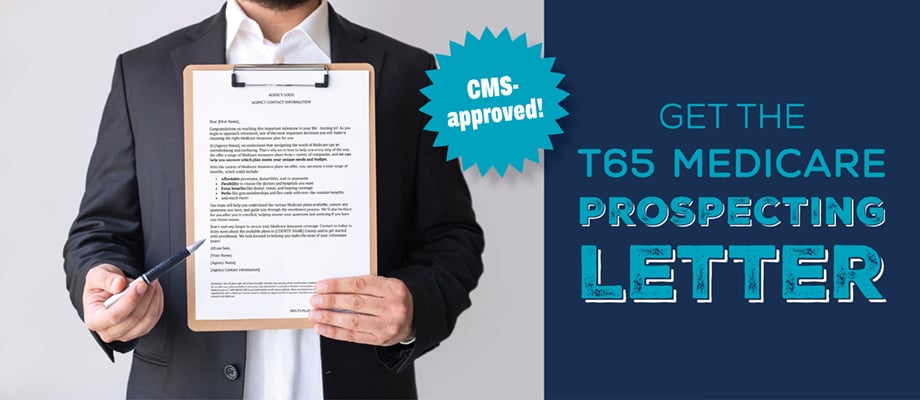 T65 Prospecting Letter
Direct mail is one of the many ways to familiarize your community with your name and to distinguish yourself as a Medicare expert.
Our new T65 prospecting letter is designed to inform potential prospects that you can help with selecting a Medicare insurance plan.
This letter does nod at some of the perks that come with Medicare Advantage plans, but it can be used to prospect for Medicare Supplement or Medicare Advantage sales.
Customizing the T65 Letter
We created this prospecting letter in Microsoft Word, allowing you to easily customize the bracketed sections.
You can customize this letter with the following:
Logo
Individual's first name
County you're sending the letter in
Your contact information, including phone number email, address, and website
Please note that you cannot make edits to any sections not in brackets. This marketing letter has been approved by CMS, so you cannot make any modifications to the copy itself.
Also, please ensure to keep the SMID at the bottom of the page, which is the identifier assigned to this marketing piece.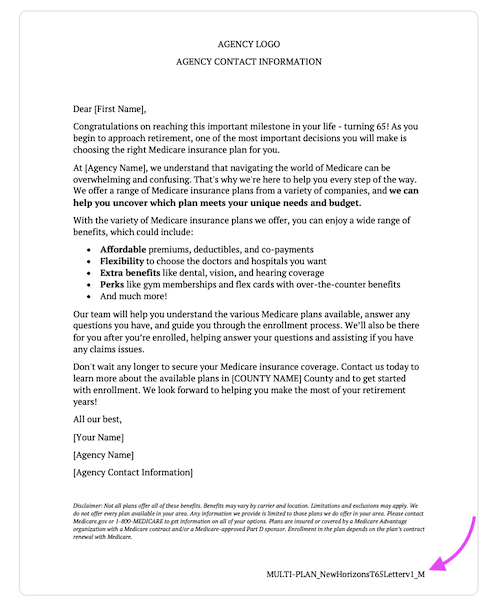 Sending the Letter to T65 Prospects
You have your letter customized and ready to be stamped and mailed off, but who should you mail it to?
There are some great services out there that provide lists of potential prospects based on demographics that are important to you. In this case, you would want to use a vendor that creates a list of individuals who are 63-65 years old.
Feel free to browse our lead vendors page to find the vendor for you, and reach out to us if we can be of any assistance.
Download the CMS-Approved T65 Letter Now: