Display this eye-catching flyer on your desk, and clients will be asking you about fixed annuities in no time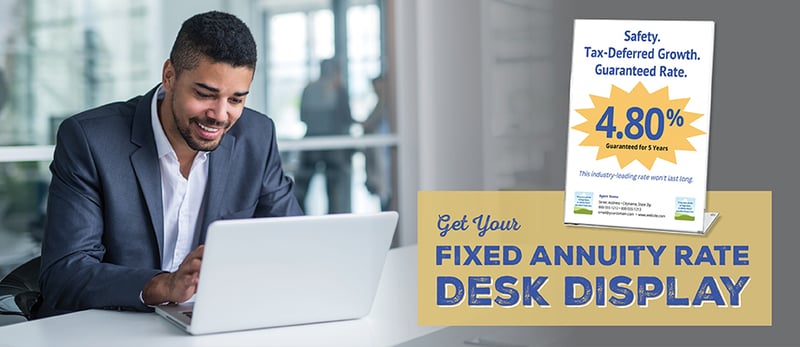 Available for contracted annuity agents only
Do you see clients in an office setting? Display the highest fixed annuity rate on this easily customizable flyer. The rate will draw your client's attention, and they'll be asking you about annuities – not the other way around!
A desk display can be especially helpful during high-traffic seasons, including the Medicare Annual Enrollment Period (AEP).
If the highest rate available changes, you can easily modify the rate, re-print, and update your desk display.
You can also utilize this flyer as a client leave behind. Add it to your policy delivery packet or give it to your client to mull over or show their spouse.
How do I display this flyer?
Many agents utilize a picture frame to showcase this annuity desk display. Check your local dollar store for an inexpensive option! You can also purchase an acrylic sign holder, like this one.
Who is eligible to download this desk display?
In order to download this desk display, you need to be contracted with at least one annuity carrier. Our annuity carriers include:
SILAC
Athene
EquiTrust
American Equity
Fidelity & Guaranty Life
Allianz
Upstream Life
North American Company
Investors Heritage
Guaranty Income Life
Great American
ELCO
Ohio State Life
Oxford - Annuities
Sentinel - Annuities
Liberty Bankers Life - Annuities
WULA - Annuities
Atlantic Coast Life - Annuities
KSKJ Life - Annuities
---
New to annuity sales?
Annuity sales are a huge opportunity for independent agents in the senior market. If you want to learn how to sell annuities to seniors, you've come to the right place!
Check out our complete guide here: The Ultimate Guide to Selling Annuities In the Senior Market