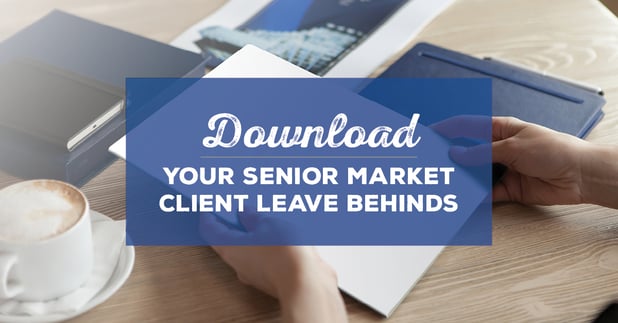 Do you want your Medicare clients to know about the different product lines you offer? Stay compliant during the AEP selling season by leaving a handout behind.
Grab our recommended client leave behinds to showcase senior market insurance products without talking through them during your sales appointment.
Included Client Leave Behinds
This client leave behind bundle includes 6 different handouts covering a variety of product lines:
Bank CD vs. Fixed Annuities
Final Expense
Life with Long-Term Care Rider
Cancer Insurance
Fixed Annuity Rate Desk Display
Short-Term Care
Why Use Client Leave Behinds?
Give your clients something tangible:

clients can look at the handout after you leave your appointment, and they have something tangible to take home.
Reach your client's spouse and loved ones:

clients can educate their loved ones at home with the correct information using a client leave behind.
Showcase new products around your office:

put these leave-behinds in a flyer holder on your desk or reception area to reach clients who may be interested in new products.
Open up more cross-selling opportunities:

if you don't have time to talk about cross-selling products during your appointment – or you can't because of compliance during AEP – send your client home with a handout. Your client leave-behind gives them time to review the selling points on their own time.
Print the leave behind fast:

there's no need to order custom prints and wait several weeks – all of these client leave-behinds are designed for standard 8.5" x 11" sized paper.