Show your senior-aged clients why a MYGA is a better choice than a bank certificate of deposit (CD)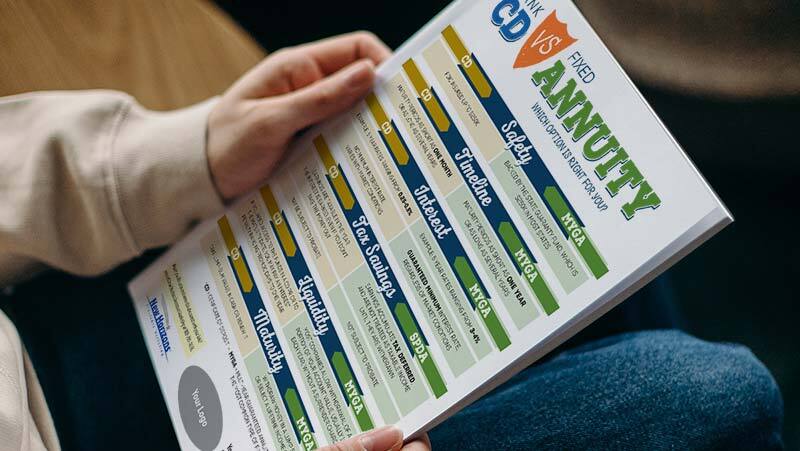 Attention annuity producers: do you wish you had a client leave behind explaining how a MYGA compares to a CD?
Look no further! We've designed a free client handout that clearly explains the advantages of a fixed annuity vs. a bank CD.
You can easily show your clients the differences in safety, contract length, interest rate, tax savings, access to the money, and maturity to help them make an educated decision for their retirement savings.
This client leave behind is customizable with your logo and contact information if you have at least one contract with New Horizons.
Put your professional foot forward: clients who get your customized handout will see you as a professional, credible expert in your field.
Give your clients something tangible: clients can look at the handout as you talk about each point, and they have something to take home after the appointment.
Reach your client's spouse and loved ones: clients can educate their loved ones at home with the correct information using this handout.
Don't leave the details up to your client's memory: this topic is likely confusing for your clients, and they may forget important details – now, they can reference and remember the points that matter.
Showcase annuity selling points around your office: put these leave behinds in a flyer holder on your desk or reception area to reach clients who may be interested in the topic.
Have more effective appointments: clients may forget some of the things you talked about in your presentation – now, they can reference the materials as many times as they need to, giving you a better chance at closing the sale.
Open up more cross-selling opportunities: if you don't have time to talk about annuities during your appointment, send your client home with this handout to give them time to review the selling points on their own time.
Print the leave behind fast: there's no need to order custom prints and wait several weeks – this client leave behind is designed for standard 8.5" x 11" sized paper.
Now that you have a clear explanation of why fixed annuities are a better solution for your client's savings, you're perfectly poised to close more annuity sales, even during the busiest time of the year.
New to annuity sales?
Annuity sales are a huge opportunity for independent agents in the senior market. If you want to learn how to sell annuities to seniors, you've come to the right place!
Check out our complete guide here: The Ultimate Guide to Selling Annuities In the Senior Market