Fund Annuities with 401ks, IRAs, Savings Accounts, & More – Without Causing a Taxable Event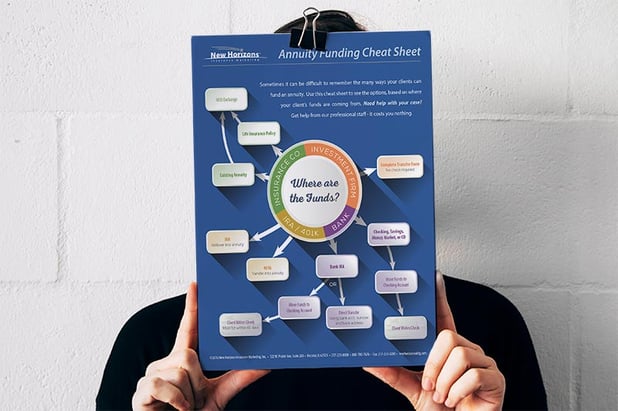 Making the check out to the wrong party or using the wrong annuity form can cost your client thousands. Trust us – we know agents who have made this mistake, and the pit in your stomach lingers for quite some time!
With the Annuity Funding Cheat Sheet, you can quickly get clarity on how to properly transfer funds from many sources to an annuity.
How Is An Annuity Funded?
Clients can fund an annuity from a variety of different sources. We generally break it down into four main categories:
Investment firms
Banks
Insurance policies
Retirement accounts
From there, we can get more specific and pinpoint the exact annuity funding sources, which include:
Investment firms
Checking Accounts
Savings Accounts
Money Markets
CDs
Bank IRA
IRA
401k
Existing Annuity
Life Insurance Policy
In some cases, you need a transfer form but no check. In others, you need to complete a 1035 exchange. And in others, your client needs to move funds to their checking account and write the check. It's a lot to keep straight, and mixing up one method with another can cause an expensive taxable event.
With the Annuity Funding Cheat Sheet, you can:
Effortlessly rollover 401k or IRA into a fixed annuity
Confidently transfer funds from a CD to an annuity
Use a life insurance policy to fund an annuity
And more!
Keep the Annuity Funding Cheat Sheet Handy
With our Annuity Funding Cheat Sheet handy, you can quickly recall how to properly transfer funds – the right way. Keep it in your briefcase or folder and take it with you on all appointments.
Never worry about making a silly – yet costly – annuity funding mistake again!
Plus, you can always get clarification and help from our responsive annuity department.
---
New to annuity sales?
Annuity sales are a huge opportunity for independent agents in the senior market. If you want to learn how to sell annuities to seniors, you've come to the right place!
Get started with The Ultimate Guide to Selling Annuities In the Senior Market.