The 5-Year Multi-Year-Guaranteed Annuity (MYGA) is the most popular annuity type that we represent, and it can be difficult to get a quick snapshot of what each company is currently offering.
On our 5-Year Annuity Tip Sheet, you will quickly see:
Companies and their AM Best Ratings

Current interest rate

Withdrawal features and how much they cost to add

Key features, which includes minimum deposits and any points of interest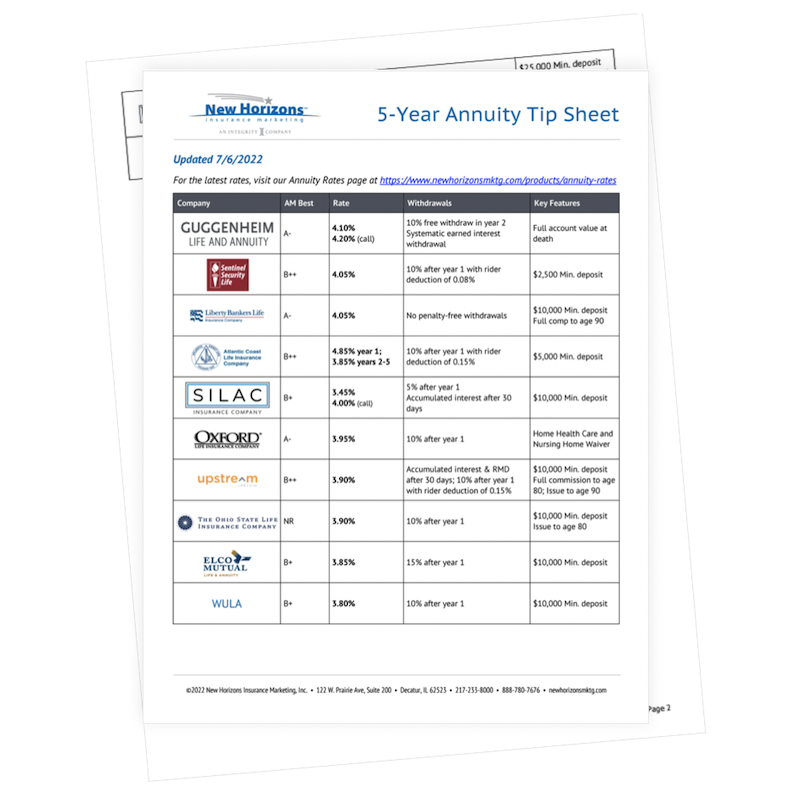 We offer 5-Year MYGAs from the best insurance carriers around, including:
Guggenheim Life and Annuity

Sentinel Security Life

SILAC

Atlantic Coast Life

Elco Mutual

Liberty Bankers Life

Manhattan Life

Oxford Life

Upstream

Ohio State Life Insurance Company

KSKJ Life

Investors Heritage

WULA
At any time, you can view annuity rates for all of our annuity products here.
You can also read our Quarterly Annuity Update featuring Kirk Sarff, where you'll be able to see which annuities other agents are selling the most right now along with industry updates and announcements.
New to annuity sales?
Annuity sales are a huge opportunity for independent agents in the senior market. If you want to learn how to sell annuities to seniors, you've come to the right place!
Check out our complete guide here: The Ultimate Guide to Selling Annuities In the Senior Market